M a r k e t N e w s
Tanzania is implementing a climate change adaptation financing programme funded by GCF and CRDB Bank
Posted on : Wednesday , 27th July 2022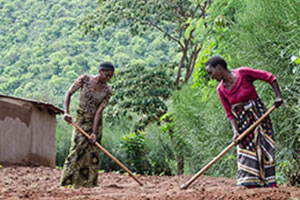 In order to launch a finance programme for smallholder farmers in Tanzania who need to adapt to climate change, the Green Climate Fund (GCF) has inked an agreement with the Tanzanian commercial bank CRDB Bank.
Tanzanian smallholder farmers will receive assistance in adjusting to the effects of climate change. The Green Climate Fund (GCF) and CRDB Bank, a commercial bank authorised by the Central Bank of Tanzania and listed on the Dar es Salaam Stock Exchange, will collaborate on a programme to accomplish this.
The two financial institutions inked a contract to carry out the Tanzania Climate Adaptation Technology Deployment Program (TACATDP) on the sidelines of the Commonwealth Heads of Government Meeting (CHOGM), which was concluded in Kigali, Rwanda. The purpose of this effort is to increase smallholder farmers' and agribusinesses' resiliency to climate change.
According to the GCF, "Smallholder farmers are estimated to own 90% of Tanzania's agricultural land, and 98 percent of economically active rural Tanzanian women are employed in agriculture, rendering these groups particularly vulnerable to climate change."
The recently concluded agreement with CRDB Bank provides the GCF with the legal justification to transfer its co-investment of $100 million in this $200 million programme to CRDB. The commercial bank will promote new financial solutions under the TACATDP that help farmers adapt to the changing climate.
This credit line is specifically for methods and technologies for climate adaption. A credit guarantee facility and a weather-indexed insurance product will be offered in conjunction with this instrument to increase accessibility to new borrowers and help farmers guard against weather-related losses. "With the help of this initiative, which will change the nation's climate finance procedures to better support accessible climate adaption technology in the agricultural sector, over 6.1 million direct and indirect beneficiaries are expected to benefit. According to Abdulmajid Mussa Nsekela, CEO of CRDB Bank, "this would ultimately increase food security and build the resilience of smallholder farmers, enhancing the livelihoods and quality of life of our residents."
He claims that the $100 million Green Climate Fund grant will also provide technical assistance to encourage agribusinesses in comprehending best practises for climate-resilient agriculture and to support government institutions in integrating climate risks into national planning.
Source : www.afrinews.co.ke