M a r k e t N e w s
Kenyan chamber of commerce enhance bilateral relations in Sharjah
Posted on : Thursday , 4th March 2021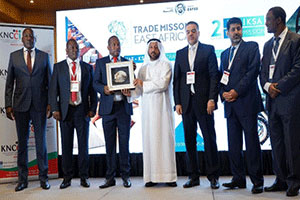 The Sharjah Chamber of Commerce and Industry (SCCI) and the Kenya National Chamber of Commerce and Industry (KNCCI) have explored ways to work together to open a representative office for the KNCCI in the emirate in order to strengthen bilateral relations and support the two countries' business communities.
This happened during a meeting between the SCCI and its President Richard Nagatia of the renowned KNCCI delegation. The delegation also included a group of Kenyan entrepreneurs working in the food industry, among other industries.
In the presence of a number of officials, Abdullah Sultan Al Owais, Chairman of the SCCI, welcomed the delegation.
While greeting the delegation, Al Owais claimed that Sharjah Chamber is eager to provide all possible assistance in the establishment of the Kenyan office, noting that this move will improve Sharjah-Kenya relations.
He noted that Sharjah-based companies could play a key role in enhancing bilateral economic cooperation by capitalising on Kenya's vast investment opportunities, especially in the agriculture, infrastructure, and energy sectors. The Chamber's visits to Nairobi in recent years aimed to sustain Sharjah's role as a gateway to Africa for regional and global markets, as well as to boost the emirate's presence in Africa's emerging markets, he added.
Nagatia emphasised his country's willingness to extend international cooperation and sign a number of business agreements. He noted that opening a representative office in Sharjah would assist in making the most of the lucrative investment opportunities in the UAE and Sharjah, especially in the industries of industry, trade, tourism, logistics, and financial services.
Source : www.corporatenews.co