M a r k e t N e w s
Swiss Belhotel to Make Tanzania Debut Next Year
Posted on : Thursday , 3rd May 2018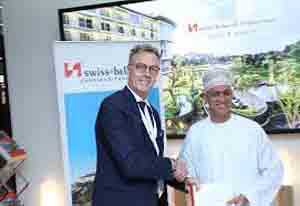 The Swiss-Belhotel has joined hands with the Arabian Travel Market (ATM) from Dubai and also the Zanzibar Crown Hotel and Resort to take over managerial control of the Swiss-Belresort Zanzibar. The project is expected to be open for business in 2019. This will be the group's first project in Tanzania and in the East African region as a whole.
Mr. Nadhim Said Hamdan Al Rawahi, the Owner of Zanzibar Crown Hotel and Resort Limited, said, "Zanzibar is the jewel of the Indian Ocean where Africa meets Arabia and we are delighted to expand our attractive local hospitality portfolio with Swiss-Belhotel International. With its fascinating beachfront location Swiss-Belresort Zanzibar is perfectly situated to offer its guests a relaxing and enjoyable experience in this tropical paradise bursting with nature, culture, adventure and history. Embodying high-quality standards with world-class facilities, the hotel is being developed to provide travelers a unique opportunity to intimately connect to their surroundings, beaches, nature and the welcoming Swahili 'Karibu' atmosphere."
The hotel will be surrounded by the scenic beauty of the sea and landscape with many activities like water-sports, snorkeling, diving and a lot more made available to guests.
Chairman and President of Swiss-Belhotel Internation, Mr. Gavin M Faull was quick to give his backing to the project stating that his company was delighted to partner with the Crown Hotel and Resort Limited. And said that he is excited to see what the future holds for the two companies. This hotel will be one of the very few hotels catering to the upper/mid-scale tourist segment, which is a segment that is quickly gaining traction.
"Our aim with this project is to provide guests all the fun, comfort and enjoyment without the hefty price tag" he said.
Source : bizmap.com