M a r k e t N e w s
Java Group Plan Sh1billlion Expansion Drive in East Africa; Kenya the Focus
Posted on : Wednesday , 18th April 2018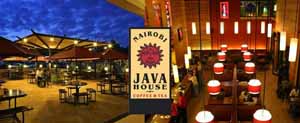 Java Group has set out on a development drive this year that will re-affirm their place as Kenya's number one chain of restaurants. This development drive will see them channel up to Sh 1 billion into their operations in East Africa.
Ken Kuguru, Chief Executive of the firm said that the firm would now open new outlets in developing towns and in urban areas in Kenya to produce new income streams and also increase the number of branches in the country over. The firm will likewise plan to make overtures in other East African countries yet the primary focus will stay on Kenya.
Java remains Kenya's biggest restaurant network with 64 branches and is a pioneer in their segment. They are trailed by worldwide players like Kentucky Fried Chicken (KFC), Subway and Art Caffe.
KFC as of now has 31 branches in the East African locale, 17 of which are in Kenya, 9 in Uganda and 5 in Tanzania. America fast food chain Subway has 12 branches in the district — eight in Kenya, three in Tanzania and one in Uganda while Art Caffe is spoken to by 12 branches in Kenya.
Mr Kuguru told the Business Daily that 80 percent of the company's development roll will lay an emphasis on Kenya, in the next five years.
The five-year plan is assessed to cost around Sh5 billion.
Java Group runs coffee outlets under Java House, owns 360 Degrees Pizza and Planet Yoghurt brand. The 64 branches under the label include 56 coffee outlets. The firm is looking to open at least two outlets of its brands every month.
"Java House will invest between Sh500 million to Sh1 billion in new branches as well as advancements in a state-of-the-art central kitchen and commissary facilities," said Mr Kuguru.
Java Group is keen on Meru and Machakos counties, where it will open its first branches of the year. The expansion drive indicates a shift to the counties after the devolved governments were established in 2013.
Source : bizmap.com